The latest in PFT filters – fits most PFT devices without adapters.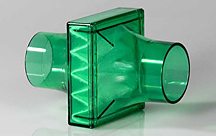 During a Pulmonary Function Test, bacteria and viruses can be expelled, posing serious risk to patients and health care workers alike. With a cross-contamination efficiency of 99.999%, Pulmoguard is safe, highly efficient...and very affordable.
PulmoGuard II Features
Needs no adapter to fit many SDI spirometers
Fits many other PFT instruments with no adapter
PLUS these original PulmoGuard features:
Meets ATS air resistance standards
Features dead volume of less than 70ml
Pleated media for better functionality
Compact, non-intimidating design
Transparent for easy, 100% visual inspection
Instrument Compatibility
Pulmoguard II fits the following instruments without an adapter: Adapters available for instruments not listed.
Breon – All Models_
CDX – Spiro 110 (remove black fitting), Spiro 850_
Cavitron/Donti – All Models_
Cosmed – All Models_
Creative Biomedics – All Models_
Futuremed – Discovery, Spirobank, Spirovision III_
Medical Equip Designs – All Models (remove black fitting)_
Micro Medical/Direct – All Models_
MIR – Reusable turbine only
Multispiro – All Models except PC (remove black fitting)_
Ohio – All Models_
PK Morgan – 232_
Riko – All Models except AS300_
S&M – Keystone_
SDI - SBOffice, SBG, spirotel, Spirolab, Spirolab II, Astra series with 7983 adapter
Smiths Medical - All models
Spirometrics – All Models except LTE, 2500 LTE_
VacuMed – Discovery, Micro, MicroPlus, MicroGP/DL, MicroLoop, Pony, Spiroscreen, Wizard_
ViaSys - MicroLoop, MicroLab
Vitalograph – All Models_Wright Professional Peak Flow Meterxcept Presto Flash
 
 
 Part No.
 Description
 Qty.
 Packaging
 
 
 29-7920-050
PulmoGuard™ II Filter
50 
Box 
 
 29-7920-100
PulmoGuard™ II Filter
100 
 Box
 
 29-7920-200
PulmoGuard™ II Filter
200 
4 Boxes/50ct 
 
 29-7920-300
PulmoGuard™ II Filter
300 
 Box
 PulmoGuard™ Kits
 
 
 Part No.
 Description
 Qty.
 Packaging
 
 
 29-7921-050
PulmoGuard™ II Filter + 1" O.D. Mouthpiece
50 
Box 
 
 29-7921-100
PulmoGuard™ II Filter + 1" O.D. Mouthpiece
100 
 Box
 
 
 Part No.
 Description
 Qty.
 Packaging
 
 
 29-7922-050
PulmoGuard™ II Filter + 1-1/16" O.D. Mouthpiece
50 
Box 
 
 29-7922-100
PulmoGuard™ II Filter + 1-1/16" O.D. Mouthpiece
100 
 Box
 
 
 Part No.
 Description
 Qty.
 Packaging
 
 
 29-7923-040
PulmoGuard™ II Filter + 1" O.D. Cardboard Mouthpiece + The Klip
40 
Box 
 
 29-7923-080
PulmoGuard™ II Filter + 1" O.D. Cardboard Mouthpiece + The Klip
80 
 Box
 
 
 Part No.
 Description
 Qty.
 Packaging
 
 
 29-7924-050
PulmoGuard™ II Filter + The Klip
50 
Box 
 
 29-7924-100
PulmoGuard™ II Filter + The Klip
100 
 Box
 
 
 Part No.
 Description
 Qty.
 Packaging
 
 
 29-7925-040
PulmoGuard™ II Filter + 1-1/16" O.D. Cardboard Mouthpiece + The Klip
40 
Box 
 
 29-7925-080
PulmoGuard™ II Filter + 1-1/16" O.D. Cardboard Mouthpiece + The Klip
80 
 Box
 
 
 Part No.
 Description
 Qty.
 Packaging
 
 
 29-7927-040
PulmoGuard™ II Filter + Comfit-D Disposable Mouthpiece
40 
Box 
 
 29-7927-080
PulmoGuard™ II Filter + Comfit-D Disposable Mouthpiece
80 
 Box
 
 
 Part No.
 Description
 Qty.
 Packaging
 
 
 29-7928-040
PulmoGuard™ II Filter + Comfit-D Disposable Mouthpiece + The Klip
40 
Box 
 
 29-7928-080
PulmoGuard™ II Filter + Comfit-D Disposable Mouthpiece + The Klip
80 
 Box