PulmoGuard Q™ Filters for MidMark IQ™ Spirometers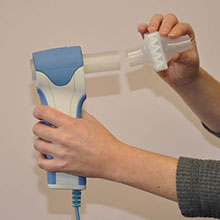 During a Pulmonary Function Test, bacteria and viruses can be expelled, posing serious risk to patients and health care workers alike. With a cross-contamination efficiency of 99.999%, PulmoGuard is safe, highly efficient…and very affordable.
The SDI PulmoGuard Q Filter is made by SDI Diagnostics, Inc. Easton, MA. SDI has no affiliation of any kind with Midmark Corp of Versailles, OH and the PulmoGuard Q has not been designed by, authorized by or recommended for use by Midmark. Midmark has not designed, manufactured or approved of any product made by SDI for any reason.
PulmoGuard Q™ Features
Meets ATS air resistance standards
Features dead volume of less than 70ml
Pleated media for better functionality
Compact, non-intimidating design
Transparent for easy, 100% visual inspection
Fits most spirometers with no adapter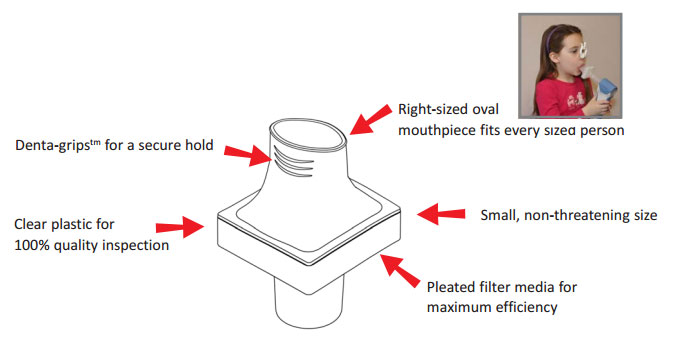 Download PulmoGuard Q Brochure.
 
 
 Part No.
 Description
 Qty.
 Packaging
 
 
 29-3102-025
PulmoGuard Q™ Filters
25 
Box 
 
 29-3102-100
PulmoGuard Q™ Filters
200 
4 x 25
 
 29-3102-300
PulmoGuard Q™ Filters
300 
300 Bulk
 PulmoGuard Q™ Kits
 
 
 Part No.
 Description
 Qty.
 Packaging
 
 
 29-3102K-025
PulmoGuard Q™ w/Kushion Klip noseclips
25 
25 
 
 29-3102K-100
PulmoGuard Q™ w/Kushion Klip noseclips
100 
4 x 50
 
 29-3102K-300
PulmoGuard Q™ w/Kushion Klip noseclips
300 
300 Bulk